THE PEDIGREE OF THE ESSEX BRANCH OF
THE HOUSE OF TWEEDY OF DRUMMELZIER
Compiled by:
O.R. Tweedy
from:
The original Tweedy Book
Notes made by George Alfred Tweedy during his lifetime within that book
Contemporary records
Various updates by Stephen J F Plowman (Webmaster)
Note: As far as can be ascertained this record is correct to November 2000.




THE PEDIGREE OF THE ESSEX BRANCH OF THE HOUSE OF TWEEDY OF DRUMMELZIER




Roger de Twydyn son of 'Fynlaw de Twyndyn' received the Charter for Barony of Drummelzier from Robert the Bruce, 13 June 1325 and married a da of Lawrence Fraser of Drummelzier .
William de Twedy, Baron of Drummelzier 1331 "son of Roger, son of Finlay del Twydyn".
James Tuedy, Baron of Drummelzier 1351-1360, m cousin da of Sir James Dunbar circa 1351
Walter de Tuedy, Baron of Drummelzier, 'Vice Comes de Peblis 1373'.
James of Tuedy, Baron of Drummelzier, m 1422 his cousin Catherine of Caverhyll who had issue:
Walter Tweedie, from whom the Drummelzier family stems until the line appears to die out when Drummelzier was sold to the Hays of Yester in 1631.
William Tweedy of Oliver from whom the Oliver family stems until Lawrence Tweedie, b 31 May 1766 and d unmarried 25 Jan 1837 having settled his estate on his nephew, George Stodart to form the Tweedie-Stodart line while the male representation of the family passed to Thomas Stevenson Tweedie of Quarter b 1784. He was the gson of Thomas, the first Tweedie of Quarter. Thomas Tweedie of Quarter, b 6 Dec 1692, the first of the line, was the second son of Lawrence's gggfather Thomas Tweedie of Oliver, himself the gson of the said William.
George Twedye, of Boreham, Essex, b circa 1430 recorded in the Visitation of Essex 1558 and 1612 as; "George Twedye who came out of Scotland from the House called DRUMELZIER" and his Arms were given as "Quarterly: 1st and 4th, Argent, a saltire engrailed Gules, a chief Azure (for Tweedy) ; 2nd and 3rd, Azure, a cross Ermine between three cinquefoils Or (for Fraser)"

Thus although there appears no direct evidence it would seem likely that George Twedye was a younger, unlisted son of James of Tuedy. Thus:-

Richard Twedye, b circa 1460, son and heir of George Twedye, married a da of Gayton of Stanford Ryvers. Their issue: Richard, George, John, Catherine married Thomas Hogan, Merchant of London. The eldest son:

Richard Twedye, of Boreham, Essex baptised circa 1490, d before 1569, m Beatrix heir to Richard Winnington of Cheshire. Their issue:
Richard Tweedy b 1516, d 28 Jan 1574 without issue. Buried at Stock Church, Essex.
Robert d 1596 without issue
Elizabeth, b 1634, d 1637.
Edmund, m Thomasina Price of Hertford (their issue William, John, Mary, Elizabeth. Edmund, d 1596).
Thomas, (Capt of the ship 'Marigold' out of Harwich in 1572).
William, of whom presently.
Ann.
Joan.
Ellen.
Mary.
William Twyddie, b ?, d 22 Jun 1605, buried at Sampford Parva, m (1) Mabel da of Henry Curwin of Cumberland. Their issue Richard & Mary both predeceased then. m (2) Margaret, da of Roche Green of Sampford Parva. Their issue:
Dorothy b c1570 m Giles Blake, ggs of John Blake of Beddow.
Anne b 1571.
Elisabeth b 1572, m Edward Stanes of Danbury.
Thomas, of whom presently.
Henry, b 1575, in Elizabeth, d 1623.
John, b 1578.
Mary b 1582.
Eleanor b 1585, d 1636.
Betterix (sic) b 1587.
Thomas Tweedy, b 1574, d 1648, settled in Yorkshire and had issue:
William, of whom presently.
Thomas m (l) ? by whom he had issue:

Anne b 1632.
William b 1634, d 1634.
John b 1635, d 1680.
Thomas b 1638.


m(2) Elizabeth by when he had a son William d 1650.
William Tweedy b 1600, d 1657, m ? and had issue.
John, of whom presently.
Margaret, b 1634.
Ellen, b 1639.
William, b 1644
John Tweedy b 1632, d 1693, m ? had issue..
Thomas b 1670, d 1740 without issue.
William, the survivor.
William Tweedy, b 1675, d 1731 m Jane Harrison who died a widow 1753. Their issue:
John b 1709, d ?
Jane d 1712,
William, the eldest surviving son.
William Tweedy b 1715, d 1788, m Isobel who died in 1761. Their issue:
William, of whom. presently.
Jane b 1752.
William Tweedy b 1739, d 1783, m Elizabeth Clough, da of John Clough of Helperby and Thorpe Stapleton 1763. (He is described in the record of the Senior Proctor of the Archbishop's Court of York as 'of the family of Drummelzier, North Britain").

Their issue:
John, b 1765 of Warley House, Yorks, JP, DL, m Elizabeth Green, d 1842. Their issue:

John Drummelzier b 1797, d 1834 without issue.
Sophia, 1799, m 1843 James Graham Barrister at law.,

William b 1767 m da of the Dean of Galway, d 1808 in India without issue.
Elizabeth, b 1769, m ? Snowball of London. d 1853.7a .
Ann. b 1770, d 17707a
Edward, b 1771, d 1794.
Hugh, of whom presently.
Bryan, b 1775, d in America.
James, b 1776, d in the West Indies.
Henry, b 1778, d 1778.
Charles, b 1779, d 1781.
George, b 1780, m 1832 Violet, da of John Veitch of Know Park, Selkirk and heiress of Robert Veitch of Bromley House, Kent. He was a Colonel in East India Coy and Political Agent in India. He d 1860 and she in 1865 without issue.
Hugh Tweedy b 1774, d 1820, a Banker in London. m (1) Sarah who died in 1804 having had issue:
Elizabeth, b 1792, bapt. 25 Nov 1792 St Giles, Cripplegate, d 1793.
Hugh, b 1794, bapt. 4 Apr 1794 St Giles, Cripplegate, d 1796.
William, b 1796, bapt. 21 Jul 1796 St Giles, Cripplegate, d 1828 in India without issue.
Ann, b 1797, bapt. 22 Dec 1797 St Giles, Cripplegate,
Sarah, b 1799, bapt. 15 Feb 1799 St Giles, Cripplegate, d 1799.
Edward, b 1800, bapt. 25 Jul 1800 St Giles, Cripplegate, d 1802.
Richard, b 1802, bapt. 8 Sep 1802 St Giles, Cripplegate, d in Australia with issue(?) Hugh Richard and Elizabeth Sturdey.
And twins twice who died in infancy.
m(2), 19 Feb 1805 Mary Ann Reid, d 1807, da of Dr Danby Seton-Reid, Chief Surgeon St George's Hospital, by whom he had an infant which died.

M (3) 1808, Sarah Maria, da of John Newman, JP, DL of Bucks and Oxon, and had issue:
John Newman Tweedy, b 24 May 1809, bapt. 2 Jun 1809 St Giles, Cripplegate, d 1865, Swedish Consular Service of Widmore House, Bromley and Montague Sq, m 12 Sep 1837 his cousin, Dorothea Esther Henrietta,(b 1813. d 2 Apr 1900), da and heiress of Capt William Turpin Fellowes of Foscot Manor, Bucks. They had issue:

John Hearne Tweedy, b 1838, d 1838.
George Drummelzier, b 1840, d 1851.
Dora Hearne, b 1841, d 1900, in T Aubin who died without issue 1900.
John Hearne b 1843, d 1882 without issue.
Charlotte Mary Newman, b 1844, m 1869 John Balfour Inglis, d without issue 1877.
Henrietta Frances McNab, 1844, d 1889
Hugh D'Oyly, b 1847, d 5 Oct 1898, of Widmore Lodge and The Hoo, Kempston, Beds, Lord of the Manor of Kempston. Swedish Consular Service, Kt Polar Star & Kt Order of St Olaf.17 m 1875, Marie Antoine by whom he had issue:

Henrietta, b 1876.

Violet Sarah, b 1849, d 9 Oct 1923.
Arthur Hearne, b 1850, of Widmore Lodge. Lt 5th Vol Bn The Rifle Bde, His Britannic Majesty's Consular Service, Vice-Consul & Acting Consul General (Hon Col Haitian Army), d 23 Dee 1925 without issue.
Henry Dillon, b 1851, d 1899 without issue.
Georgina Ann, b 1853, d 1857.
Elizabeth Harriott, b 1855, m 1886 William Ridley Richardson, MA(Cantab) of Ravensfill, Bromley d.1914 and had issue:

Hugh Lascelles Richardson, b 1887, m.1924 Ellen Caroline Goldsborough Whittam d 18 Nov 1954, Major Royal West Kent Regt,
His Children:


John Hugh Goldsborough Richardson (born Forbes NSW, 5 August 1925, died 2 August 1982) Married Fay Smith in Sydney 19 Dec 1951. Children:


Peter William Lascelles Richardson (born Sydney 25 September 1952). Married Sally Amanda Garnham in Sydney 14 February 1983.
Children:


Jack Lascelles Richardson (born Brussels, Belgium 31 January 1992)
William Joseph Richardson (born Hong Kong 9 December 1995)
Samuel George Richardson (born Sydney 7 February 1999)

Katherine Ann Richardson (born Sydney 5 May 1954)
Linda Louise Richardson (born Sydney 24 October 1956) – 3 children
Barbara Jane Richardson (born Sydney 7 July 1960) – 2 children

Elizabeth Jean Richardson (born Forbes, 5 May 1928, died 8 May 1928)
Michael Lascelles Richardson (born Forbes 13 March 1930, still living at "Flowerdale" between Forbes and Bedgerebong NSW) Married 7 May 1976

Enid Hilda Dorothea Richardson, b 1888, d
Violet Tweedy Turpin Richardson, b 1889, m Charles Betton Roberts RN, d 1966
Frances Ruth Ferrand Richardson, b 1891, m Cyril Tom Hinde, d
Christopher Ridley Richardson, b 1893, Capt RFC, m 1917 Winifred Mary Lodge who died 6 Jul 1926.
His Son:


William Arthur Ridley Richardson, b. 1924

William Arthur Ingham Richardson, b 1895, KIA France 1915.

George Oscar, b 1858, d 1859.
Mary Dorothea, b 15 Jun 1810, bapt. 13 Jul 1810 St Giles, Cripplegate, d 181I.
Hugh, of whom presently.
George D'Oyly, b 1815, Indian Navy, d 1838, without issue.
Charles, b 1816, Indian Navy, d ? without issue.
Christopher D'Oyly, b 1820, d 1871, Swedish Consular Service. m Gertrude Mary, daughter of Captain Charles FitzGerald, RN. She was b 1830, d 28 Mar 1895 without issue.
Hugh Tweedy, b 1811, d 1874, HM Home Civil Service. m(l) 3 December 1832 Emma D'Oyly da of the Rev Christopher D'Oyly Aplin of Staines by whom he had several children all of whom died. She died 9 February 1849.

One of whom;
John D'Oyly Tweedy b.c.1836 m.1857 Isabella Mossman d.1866

For (possible) details of his family click here.
m (2) 1850, Anne Jean, da of Capt James Pottinger, RN by whom he had issue:
Robert, b 1851, d 1855.
Margaret, b 1854, d 1857.
George Alfred, of whom presently.
Hugh James, b 1858, East India Merchant, m (l) 1884 Alice Maud Mary, da of Maj Patrick Geraghty, Knight of Windsor, She died without issue 1886. m(2) Lucinda Jane Edgar, da of Marcus Eustace, MD, Dublin. She died 1896 with issue:

Margaret Eileen May Stafford Eustace, b 1891, d circa 1970.

Margaret Sarah, b 1861, d 1897.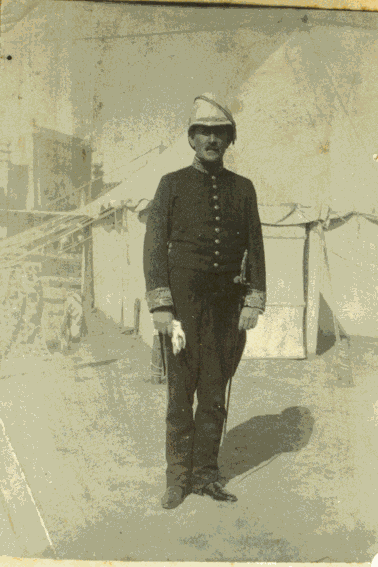 The eldest surviving son:

George Alfred Tweedy, b 1856, d 1935. Indian Civil Service District and Sessions Judge. m 1884, his cousin Margaret, daughter of Dr Robert Pottinger, RN Inspector-General of Hospital and Fleet, by whom he had issue:
Hugh Christopher, b 1885, d 1885.
Robert Pottinger, b 1887, d of Cholera Naimi Cal, India 18 Aug 1911. Royal Highlanders, 42nd The Black Watch.
George John Drummelzier, of whom presently.
Nora Margaret Pottinger, b 15 Sept 1897 Saharanpur, India, d Dec 1973. m Clifford Henry Fitzherbert Plowman, CMG, OBE, JP, BA, HM Colonial Service
Silver Jubilee medal, 1935; Coronation medal, 1937 and had issue:

Pamela Margaret, b 22 Jan 1925. m 2 Apr 1954, Joachim Lucius Brandler (b. 4 Aug 1912 d. Jul 1998), Timber Merchant & Entrepreneur in Nigeria and The Manor House, Tilbrook, Huntingdon, d. Dec 2004,
by whom there is issue..

David Koerner Olorunfemi, b 3 Apr 1955, m(l) 1978 The Hon Rebecca Leith, da of Lord and Lady Burgh. m dis without issue 1983. m(2) 1983 Amanda Baker, da of Lt Comdr and Mrs HJ Baker by whom there is issue:

Alexander , b 1984
Nicholas, b 1986
Jessica, b 1990

Andrew Clifford Winawer, b 1956, m 1978 Francine Maclean McKinley, da of Howard McKinley, Rhodes Scholar & oil Executive, by whom there is issue:

Edward, b 1973
Christopher, b 1980
William, b 1986
Michael, b 1990

Marcus Tokunboh, b 1957, m Monica Font, da of Josep Font of Banyoles, Catalonia by whom there is issue:

Maximilian, b 1991
Joachim (Kim), b 1993
Benjamin, b 1996

Penelope Faith Therese, b 1961, m 1989 Paul Michael Renney, son of John Renney, Lawyer, by whom there is issue:

Isabelle, b 1990
Olivia, b 1993
Catharine, b 1995

Robert Guy Mobolaji, b 1966

Kathleen Nora, b 16 Apr 1926, Civil Servant, MBE, Ret'd 1986.
Ronald Tweedy Fitzherbert , b 10 Jul 1928, Sqn Ldr RAF, m Marilyn Margery Pitman, da of Comdr SRJ Pitman RN by whom there is issue:

Stephen James Fitzherbert, b 1959. M 1991 Katherine Margaret Carver. Da of Capt PM Carver RN, by whom there is issue:

Frances Mary Elizabeth, b 1991
Christopher Malcolm Fitzherbert, b 1993
Alexander James Carver b 1998

Alexandra Claire, b 27 Jul 1970

The eldest surviving son:
George John Drummelzier Tweedy, b 27 Nov 1891, Dehra Dun, North India, d 1969. Commander RN, OBE. m 2 July 1917 Violet Eirenne23 (b 8 Mar 1895 d 1984), da of Mr and Mrs William Maurice, The Old House, Wokingham and had issue:
John Drummelzier, b 15 Oct 1918. Educated Eton, 2/Lt The Black Watch, KIA 2BW Crete 20 May 1941.
Timothy Christopher, b 1922 Educated Blundells School, Edinburgh Academy & RNC Dartmouth. Sub Lt RN KIA HM Submarine 'Unbeaten', 11 Nov 1942.
Oliver Robert, of whom presently.
Andrew David, b 19 Jul 1935. d. Jul 2000. Educated RNC Dartmouth but did not continue to RN. National Service BW, Motor Sales Executive, self employed and Yatch Skipper. m Roberta Woodward da of the late Sqn Ldr Woodward and Mrs Woodward.(m dissolved 1987) and had issue:

Virginia Katherine, b London 26 Jul 1968.
Henrietta Fiona, b London 14 Mar 1971, d 24 Sep 1991.
The eldest surviving son: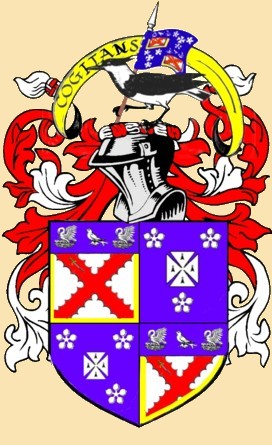 Oliver Robert Tweedy, b 4 Feb 1930, educated Sedbergh School & RMA Sandhurst. The Black Watch, Brigadier retired 1985. Comdt Queen Victoria School, Dunblane ret'd 1991. m St Ninian's Cathedral, Perth, 11 Aug 1956, April Dawn da of Mr and Mrs ET Berrange, gda of Grace Norie-Miller wife of Sir Stanley Norie-Miller of Murrayshall, Perth, 2nd and last Baronet of Cleeve in the county of Perth. They have issue.
Sareth Ann, b 14 Perth Jul 1959, educated North Foreland Lodge, Stock Broker & Fund Manager. m Chelsea Old Church, London, 4 Aug 1984, Jonathan Chave Nainby-Luxmoore, MD, BA, eldest son of Dr and Mrs RC Nainby-Luxmoore of Malmains, Denmead, Hants.

282nd High Sheriff of County Durham, 2006/07.

Had issue:

Oliver Chave, b 6 Jan 1991.
Edward Chave, b 16 Nov 1992.
Charles Herbert, b 1997.



Christopher John, of whom presently.


Andrew Hugo, b Aberdeen 17 Jul 1964, educated Wellington College, London School of Economics (BSc Econ), m Kalamazoo 11 Jul 1992, Jane Katherine, youngest da of Dr and Mrs William Rosegrant of Kalamazoo, Michigan USA and had issue;

Ruth.
Anna.



Christopher John Tweedy, b Aden 1 Mar 1962, educated Wellington College & RMA Sandhurst. Captain The Black Watch ret'd Feb 1994. m Lexden Parish Church, 17 Jan 1987 Nicola Anne, elder da of Mr and Mrs Patrick Read of Lexden, Colchester, Essex. They have issue:
Alexander George Drummelzier, b Hexham, Northumberland, 5 Sep 1988.
Emma Florence, b Perth, 10 Apr 1990.